Our doodles will put a smile on your face and love in your heart. We are devoted to raising wonderful puppies who will become loving members of your families. From birth, our puppies are showered with love and affection.
If you want to join our doodle family, please review our Planned Litter page and fill out an application at the bottom of our planned litters page. Your new family member is just a click away!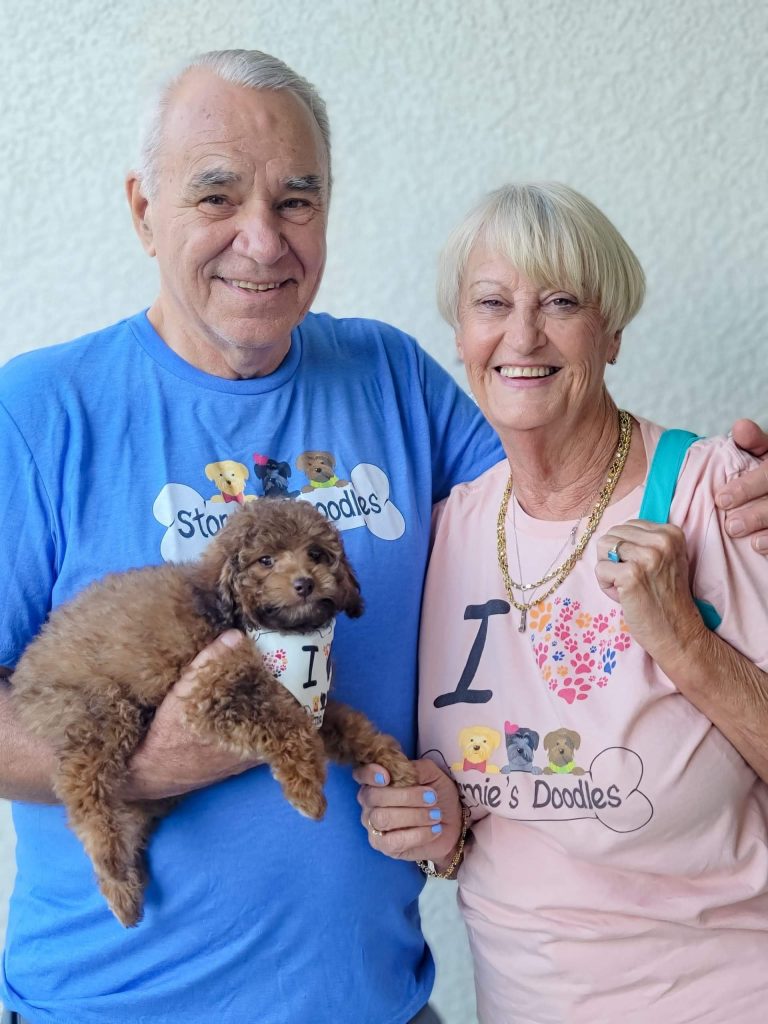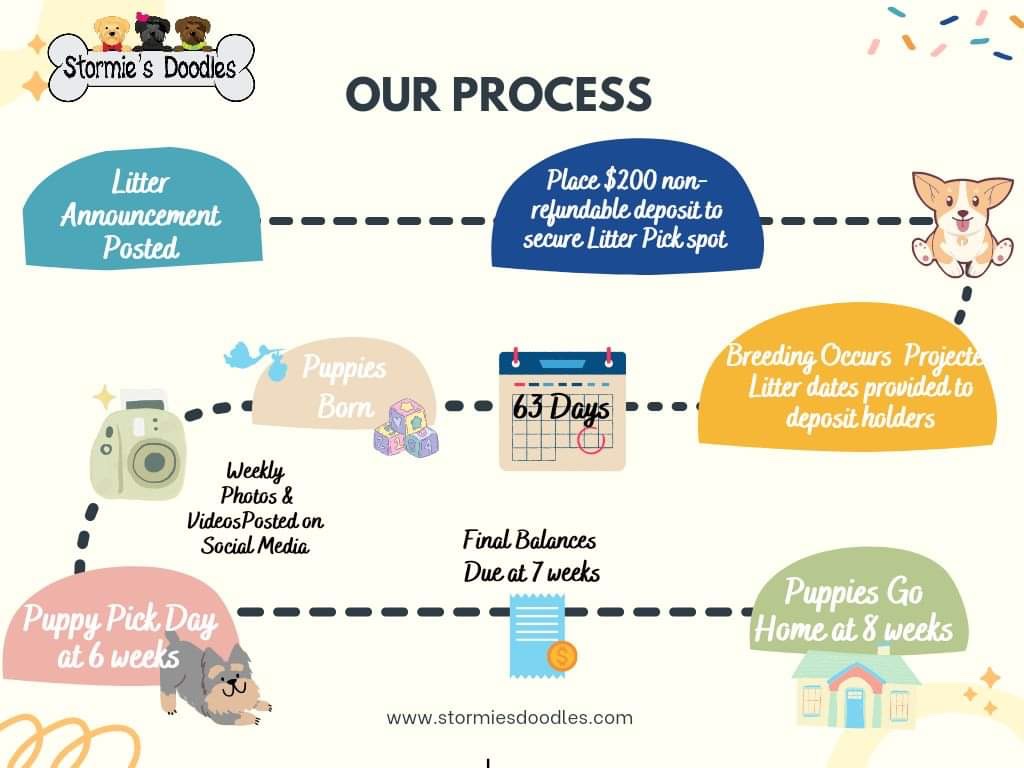 Sale Terms
ALL PUPPIES ARE SOLD AS PETS ONLY WITH A SPAY & NEUTER CONTRACT. Your puppy must be spayed or neutered by one year of age. Proof is required or a $2,000 penalty fee applies.
Up to two (2) puppies per litter may be selected for Breeder's Picks. Breeder's Picks are puppies selected by the breeder to stay in the program. These picks are usually done by 5 weeks of age. Buyer's picks begin at 6 weeks of age.
Payments accepted via Intuit Quickbooks ACH (eCheck). We also offer 100% financing through Terrace Pets.
$200 non-refundable deposit is required to secure your pick. The deposit can be transferred to another litter if there is not a puppy you like when your pick comes up. Deposits are good for one year.
Deposits are received on a first-come, first serve basis. We will not hold a spot without a deposit. Picks are assigned in the order deposits are received. As a result, we do not guarantee gender, color, or coat type. Don't worry, it always works out. Roxy, both French Fries, Finley, Zucko, Oliver, Cash, Harry and Tank were the last picks of their litters. Their families would do it the same way all over again. There is no such thing as a bad pick from us.
Litter Visit/Pick Day is scheduled at 5-6 weeks of age. You may come to our home to pick in-person or virtually via Google Duo or Face Time. We schedule 30 minute appointments for each family. Due to safety concerns, we do not allow visitors in our home until the scheduled Puppy Pick/Visit Day for families who have placed a deposit.
Balances are due one-week before puppies go home. The due date will be published when the litter is born.
Puppies go home at 8 weeks-old. Go home date will also be published when the litter is born.
Shipping for Out of State Buyers is Available ✈️
​We have placed puppies in Indiana, New Jersey, Colorado, New York, Alabama, Connecticut, Puerto Rico, and Virginia. Our puppies fly in-cabin with an experienced flight nanny. We DO NOT ship cargo.
Option 1 – Flat rate of $500 anywhere in the continental US. Flight Nanny travels stand-by on select airlines. Delivery date is guaranteed however buyer must be flexible on arrival time in the event the flight nanny is bumped off a flight en-route.
Option 2 – Buyer purchases round trip airline ticket and cabin pet fee. Flight Nanny service charge is $150 for round trips of 8 hours or less, $200 for round trips of 8 hours or more. This option works best for families with airline miles and/or reward points that can be used to purchase the airline ticket. Buyer is responsible for hotel costs if overnight stay is required due to flight availability.
Airport options are Orlando International (MCO), Orlando Melbourne International (MLB), and Orlando Sanford International (SFB)​
What do you get with a Stormie's Doodle? 🐶
Weekly Live Feeds on our Facebook page and Instagram Stories from birth until the day they go home
Weekly weight and photo updates posted on our Facebook and Instagram pages
Early neurological stimulation and bio sensory development
Developmental curriculum from the BadAss Breeder Program from 4E Kennels
Deworming protocol at 2, 4, 6, and 8 weeks of age
Socialization with adult dogs at 4 weeks of age
Exposed to weekly bathing and grooming at 3 weeks of age
Litter box training beginning at 4 weeks of age
Crate training beginning at 6 weeks of age
State of Florida Health Certificate from a licensed veterinarian
First round of shots at 8 weeks administered by our licensed veterinarians.
One-year health guarantee
30 days free pet medical insurance from Trupanion
Fi Nano Microchip with FREE lifetime registration
Lifetime Breeder Support
Membership to our exclusive Stormie's Doodles Families Facebook group where you can connect with other puppy families and see your puppies siblings, parents, aunts, and uncles grow. We have built an amazing community of doodle love and support through this group.
Access to two professional dog trainers for training tips and advice.​

FREE Virtual six-week puppy classes for all goldendoodle and bernedoodle puppies. The curriculum includes six classes covering topics such as crate training, potty training, bad habits, socializations, basic commands, and desensitization. (not included for shihpoos or toy poodles)
Training Providers:

Advice from our amazing EXPERT groomer who specializes in the Doodle Teddy Bear cut, Ms. JoAnn Frisch of Luv on a Leash Grooming in Satellite Beach, FL.
Payment plan option for future puppy purchases when you are ready for your second or third doodle from us.